Thinking of Learning to Skateboard?
Head down and check out our Skateboard coaching and Skateboard nights at The Lodge.
​
Whether you're an experienced boarder or a complete beginner, you'll be able to skate and practice your skills and tricks along with a fantastic bunch of like-minded people. We ensure that everyone is given encouragement!
Skateboard Coaching sessions...
During term time only (not school holidays), Coaching sessions are usually held on a Tuesday and Thursday evenings from 5pm to 6pm & 6pm to 7pm. Due to COVID-19 restrictions, these session are subject to possible changes, Please visit our online booking system from the end of August for availability and bookings.
We have many experienced and talented coaches who are able to offer great learning opportunities without any pressure. Sessions cost £5.00 per person. Helmets must be worn by all under 18 years during coaching.
Skateboard Nights
Skateboard dedicated evenings take place every Tuesday. So, between 7.30pm and 9.30pm the skatepark is yours to shred to your heart's content! The cost for this is £6.50 per person. Pre-booking is essential as number have been restricted due to COVID-19 guidance. Please do not 'just turn up' without booking a place.
Meet some of our coaches
​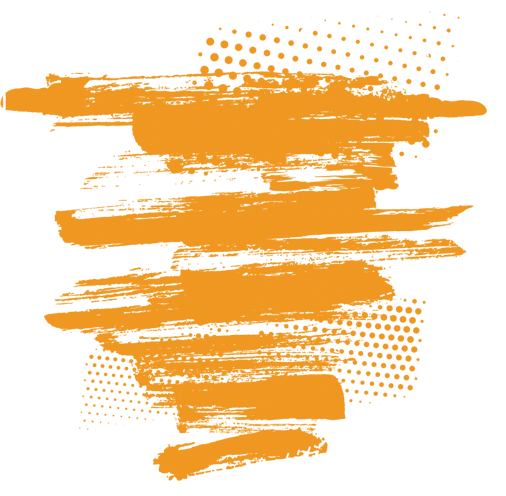 Why choose skateboarding?...
Skateboarding is a creative experience that is truly an individual activity, as each skater develops their own style and unique variations of manoeuvres. The act of skateboarding is inherently non-competitive. Beyond fundamentals, there is no right or wrong way to skateboard. When practiced safely, it is both a mentally and physically stimulating activity for developing children. As we continue to see the popularity of more "traditional" sports and activities decline among young people today, it is important for educators and recreation professionals to embrace the kinds of activities that will keep kids interested and active, as well as help fight the growing threat of obesity. If practiced and promoted properly, skateboarding can be an effective tool for teaching self-discipline, and preparing our young people for the variety of challenges and hurdles they will undoubtedly face throughout their entire lives.
​
Kids are naturally curious and attracted to activities like skateboarding.
Skateboarding involves essential lifelong physical and mental skills that can be beneficial to kids both immediately, and throughout their lives.
In addition to these physical and mental skills, skateboarding provides opportunities to learn and develop self-confidence, as well as positive interactions with others. Although many activities prove to be a healthy influence on a child's development, that activity will have greater significance if the child has chosen it on their own. Of the many different influences a child will be exposed to, skateboarding proves to have some unique qualities. First, skateboarding is intrinsically satisfying.
Children are naturally going to gravitate towards an activity that involves the freedom of rolling, turning, jumping and the types of movements incorporated into the skateboarding experience. The different heights, speeds, and technical movements involved in the act of skateboarding provide a natural environment where a child can learn to solve problems and overcome fears. Besides the obvious physical benefits of skateboarding, there are mental benefits as well.
The complex movements involved in skateboarding illustrate important physical concepts to a skateboarder. Believe it or not, in skateboarding there are important rules that need to be learned and followed. Some of these rules are unvarying (physical laws with real consequences if broken), and rules that relate to one's own safety as well as the safety of others. Because skateboarding is so attractive to developing children, and it is an activity that they have chosen on their own, the lessons learned may be more effectively retained.
The intrinsic rewards of skateboarding cannot be discounted. Educators understand that a child's success in school is heavily influenced by early childhood experiences that form and mould a child's self-concept. A child needs to have positively reinforcing experiences that illustrate to them how they can solve problems, attain goals, and have control over the direction their life will take. The concepts that are learned while achieving a skill in skateboarding are just as important as the skill itself.
​
Confidence & Self-esteem
A young person, who has experienced the success of reaching set goals, has developed a strong sense of confidence and self-esteem, and who also can relate and interact positively with others, is going to approach future situations with confidence and an increased chance for success. The sport of skateboarding when utilised properly can be a vehicle to enhance a student's adaptations to any experiences they may encounter in life...
​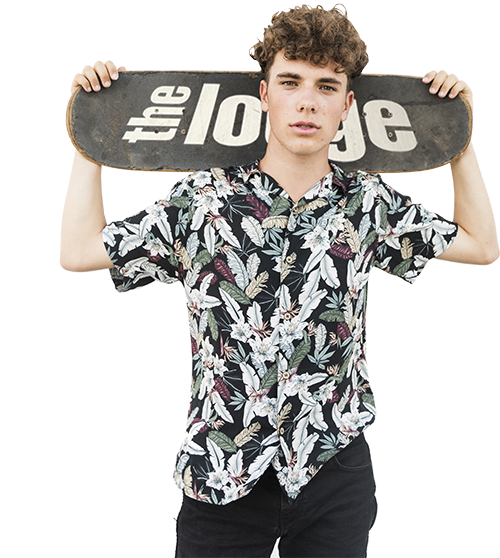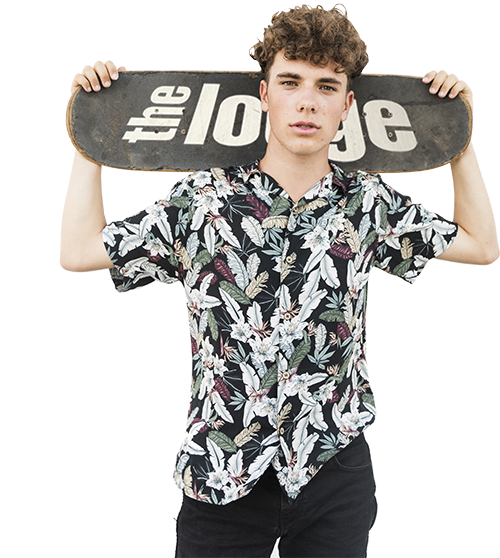 Safety at The Lodge
Please read our terms and conditions of use for your safety and the safety of others. Extra restrictions are now in place for your safety with the new Government Guidelines for COVID-19.
Regular hand washing and hand sanitizing will be essential for all users.
Please ensure you clean your handle bars and grips prior to your session.
Social distancing rules will apply
Please do not arrive more than 5 minutes before your session is due to start and avoid hanging around after your session.
​